Todd Hahn Construction
Riverside, Iowa
Ph: 319-648-HAHN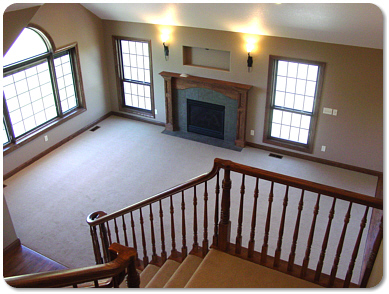 Todd Hahn brings together the process of professional design and custom construction together with customer service.Todd Hahnís creativity, along with your dream, will combine to create your ideal home and start the design and construction process. Todd Hahn Construction has the knowledge and the expertise to build your dream home from start to finish; this includes drawing the plans, providing estimates, building the home, and delivering your keys. With Todd Hahn Construction, Todd will provide all the services to ensure that your project is delivered with exceptional service and the highest quality.

The first step in the design build process begins with an interview and an information gathering session with Todd personally. In this meeting you will discuss the following: home site considerations, space needs, family lifestyle, special desired features, materials, finishes, cost parameter, and financing. From the information gathered, Todd Hahn will design the preliminary floor plan and exterior design of the home. Many times the preliminary drawings are done while you are in the information gathering session.

After review and input from you, the design phase will continue until the design of the new home is approved. Then the final construction drawings and specifications are prepared.



Home Page | Design Phase | Building Phase | Photo Gallery | Testimonials | About Us | Contact Us
Website designed by Iowa Solutions Inc. - © Copyright 2021 Todd Hahn Construction, All Rights Reserved